Honda Returns to Austin City Limits Music Festival with New Honda Stage Headliners, Pop Art-Inspired Vehicle Collaboration and Free Ridesharing
Chance the Rapper, The xx and Gorillaz headline the 2017 Honda Stage at Austin City Limits Music Festival
'Hail-A-Honda' partnership with Ride Austin and Austin City Limits Music Festival provides free ridesharing to the fest for ACL Festivalgoers over both weekends
Honda x Waterloo Records Artist Signing Stage features DABSMYLA Civic Hatchback collaboration, artist meet and greets, autographs, vinyl and more
Honda is returning to Austin City Limits Music Festival for its 9th year as a sponsor with some of ACL Fest's most highly anticipated acts on the Honda Stage, the Honda x Waterloo Records Artist Signing Stage, a special collaboration with pop artists DABSMYLA and their custom-designed Civic Hatchback, as well as the return of the "Hail-A-Honda" rideshare service providing complimentary rides to ACL Fest attendees.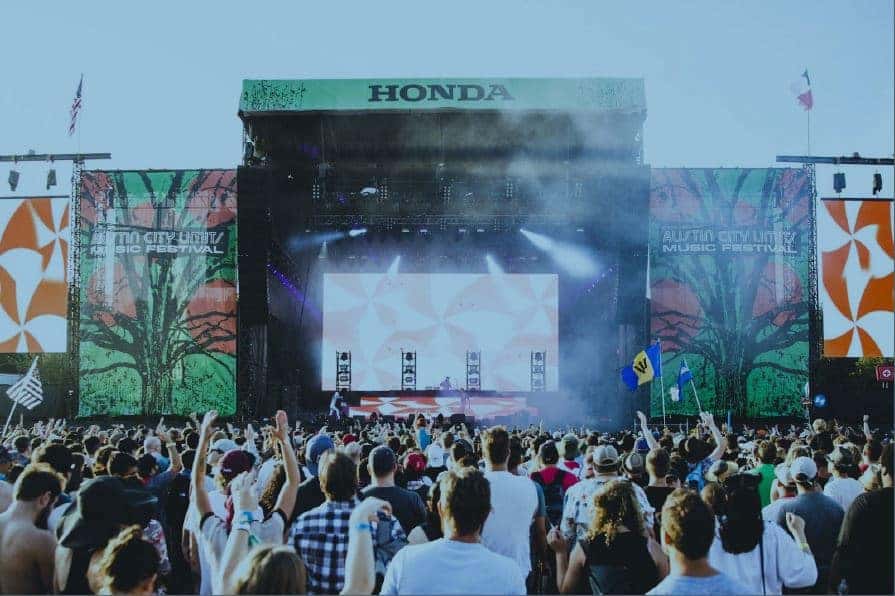 The Honda Stage returns to ACL Fest for 2017 with some of today's most popular artists including headliners Chance The Rapper, The xx and Gorillaz, along with artists such as Run The Jewels, Cut Copy, Glass Animals, and The Revivalists. The full Honda Stage line-up is available at https://aclfestival.com/schedule.
"Honda's deep investment in music forges a connection with fans across the country through festivals and live events like ACL that serve as the core of our Honda Stage music platform," said Alicia Jones, Manager, Honda National Advertising. "As part of our activation this year, we are showing off the all-new 2017 Civic Type R, the fastest, most powerful Honda and the first-ever Honda Type R model to be sold in America."
'Hail-A-Honda' Complimentary Rideshare
Honda and the Central Texas Honda Dealers have teamed up with Ride Austin, Austin's nonprofit rideshare, for the second consecutive year to bring the "Hail-A-Honda" rideshare service for the Austin City Limits Music Festival. Hail-A-Honda will provide attendees complimentary rides to the music festival over its two weekends (Oct. 6 –8 and 13 –15) from 11am to 5pm daily. Fans headed to the festival can access their free rides in ACL Fest-wrapped 2017 Honda CR-V sport utility vehicles via the Ride Austin app through the "Honda" vehicle class button. Cars accommodate up to four passengers, and riders will also receive a free bandana and ACL Fest chilled water during their free ride.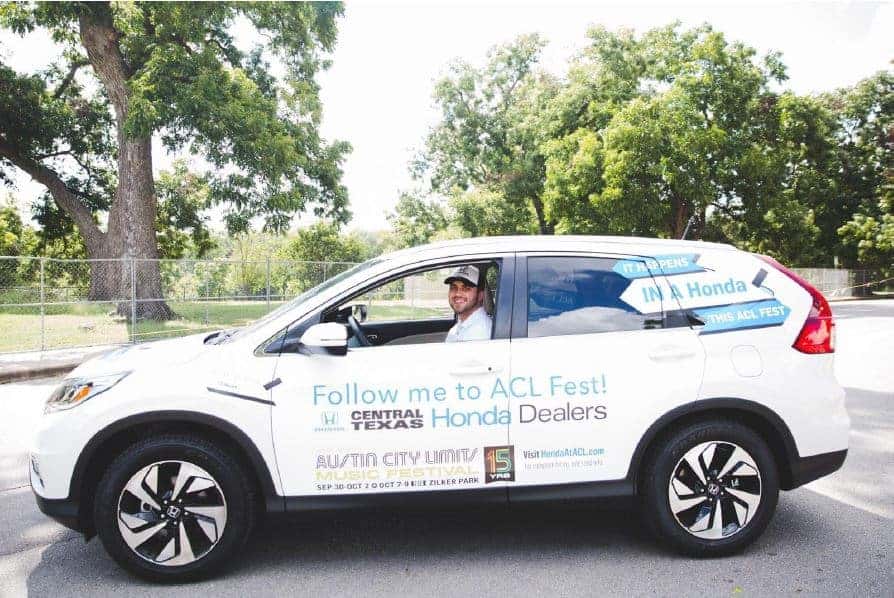 "ACL Fest is one of Austin's greatest annual events and the Central Texas Honda Dealers are proud to be deeply associated with such a vibrant music-filled experience again for 2017," said Cliff Collier, President of the Central Texas Honda Dealers Association.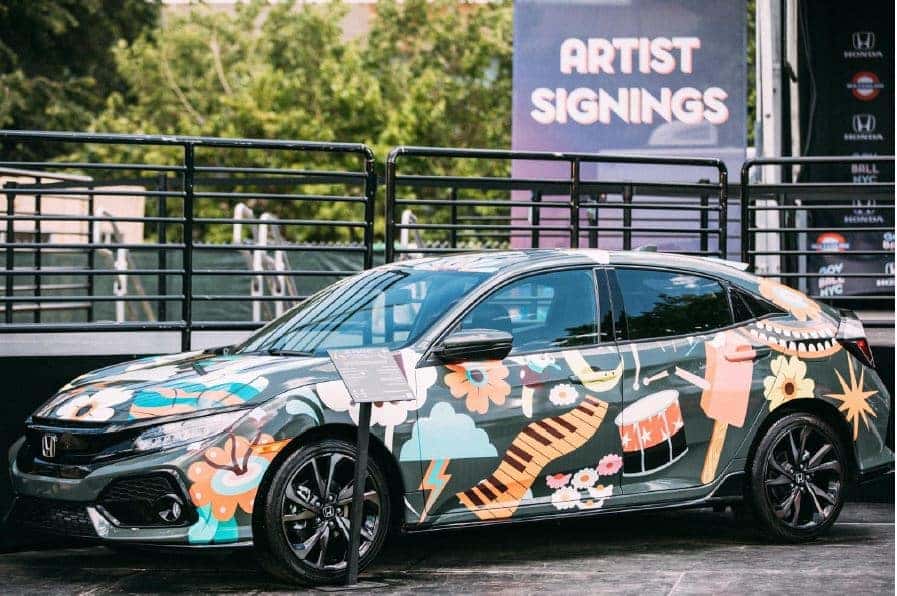 Music-Meets-Pop Art: DABSMYLA Customized Honda Civic Hatchback
Australian husband-and-wife visual artists, DABSMYLA, known for their whimsical pop art and diverse projects such as cartoon murals, have collaborated with Honda for this year's music festival season by bringing their customized Civic Hatchback to Austin City Limits Music Festival. The DABSMYLA Civic Hatch will be on display at the Honda x Waterloo Records Artist Signing Stage and is inspired by the artists' shared love of life, friends and live music, with each design element carrying its own meaning. The instruments painted on the Civic Hatchback represent a deep love and appreciation of music with the lightning bolt representing the energy of live music, and the smile reminding fans of the good times they have had while experiencing live music.
"We are thrilled that this collaboration with Honda let us bring our musical inspiration to life – the energy that comes along with music at festivals is what we wanted to shine through our design. We wanted to be able to capture the love and positivity that people are feeling as they listen to their favorite songs in a live setting, like at ACL Fest," said Dabs and Myla.
Honda/Waterloo Records Autograph Signings at ACL
Honda and the Austin born and raised Waterloo Records have joined forces to provide a unique experience integrating festivalgoers' love for music and automobiles. In addition to showcasing the 2017 Civic Hatchback and Civic Type R, ACL Fest artists will be stopping by to autograph albums purchased at the Waterloo Pop-Up Record Store next to the "Honda x Waterloo Records Artist Signing Stage." Fans can also check out the DABSMYLA 2017 Honda Civic Hatchback collaboration on display at the stage over both weekends.
Honda and Music Festivals
Music festivals and live events are at the heart of Honda's deep involvement with music, which includes over 16 years presenting the Honda Civic Tour, as well as partnering with premier U.S. music festivals. Honda celebrates nine years at Austin City Limits Music Festival, on the heels of the brand's fourth year and sixth year, respectively, in bringing the Honda Stage and top music talent, along with a curated concert going experience, to Music Midtown and Governors Ball, featuring performances by Childish Gambino, Flume, Tove Lo, Wiz Khalifa, Phantogram and more in 2017. Agency Marketing Factory has been producing Honda's festival campaign since 2009. Be sure to check out other great music venues around New Jersey!