Honda Accord Ranks As Most Popular Car In US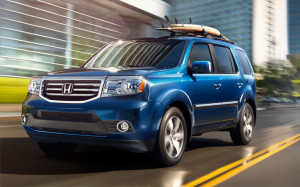 Car buyers know what they want in America. The Honda Accord tops the popularity lists among drivers searching for mid-sized vehicles in the non-luxury and traditional segments. Drivers are fiercely loyal to this winning vehicle. When consumers reach this level of confidence, it bears exploring to learn why and how the devotion developed.
Safety
Numerous safety features have been built into this vehicle. The forward collision warning system, lane departure warning, lane watch blind spot display, and rear view camera with multi-angle display are some important ways that drivers remain safe in this car.
Economy
Engineers have gone above and beyond in their quest for fuel efficiency in the Honda Accord. It's possible to avoid hybrid models, yet still enjoy winning fuel economy. This vehicle features the Earth Dreams powertrain technology, which expertly combines efficiency with top performance. In fact, a special ECON button even shifts the auto into ultra-efficient mode, while not sacrificing any measurable power. Drivers can keep track of this mode with the green ring that appears around the speedometer when it is enabled.
Features
Interior styling is sleek and impressive. Materials and features in the cockpit are simple, yet stately. The steering wheel has a wide assortment of secondary controls for driver access. Soft-touch controls on the dashboard with touch-screen display deliver the latest technology to occupants. Engineers gave plenty of thought to the entire cabin, with gauges and controls situated conveniently throughout the vehicle.
Drivers who opt for the Touring package will enjoy additional features such as LED headlights, taillights, and running lights, as well as a proximity key entry system and 18-inch alloy wheels. A power moonroof, push-button start, heated rear seats, and leather-wrapped steering wheel are just a few of the other features included with this package.
Handling
An independent suspension system gives the Honda Accord an effortless glide that feels safe and stable to occupants. Driver handling is intuitive and crisp to ensure predictability with every bend in the road. Even at high speeds, this car feels comfortable.
Consumers should explore the reasons for this vehicle's popularity to see whether it fits their needs.