Tips for Traveling With Pets: Preparing For Your Pet Friendly Road Trip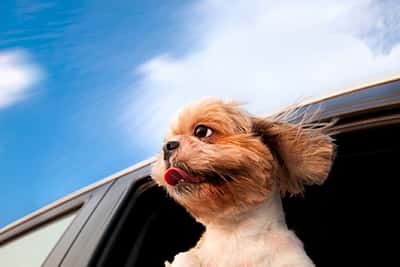 When it's time for a family vacation, nobody wants to get left behind, and that includes the family pet. But if the trip includes a long drive, taking Fluffy along can seem like a daunting task. Luckily, there are a number of easy, practical ways to make traveling with the family pet a breeze.
Prepare Your Car
When traveling long distances with few breaks, one of the biggest things to consider is a possible mess. A seat cover is a practical, cost-efficient way to protect car seats from any mishaps. Talk to the Honda of Toms River Parts Department about covers designed specifically for your Honda car, truck or SUV.
Keeping Your Pet Comfortable on the Road
A pet has the same needs as its owners: water, food, rest stops, and a comfortable air temperature. Owners should make sure to have enough food and water for the trip, and schedule in rest stops so the pet can walk and stretch its legs. There are many great apps that can help you plan rest stops for you and your pups to stretch your legs, so take advantage of the technology that's out there!
Pet Safety While Driving: Seatbelts and Restraints
Humans use seat belts in a car for safety, so why shouldn't a pet be safe too? Pets should be restrained in case of emergency, and to prevent accidentally distracting the driver. For small animals, a closed-door carrier is a good restraint while larger animals such as dogs should use a pet seat belt, a car barrier, or a pet car seat. One of your local Honda dealerships may sell these in model-specific sizes.
Be Prepared: Travel With ID
Pets should always be marked with an identification tag with the family name, address, and telephone number, as well as an additional tag with travel contact information or a cell phone number. Further, be sure to take a recent photo of your pet to have on hand in the event that he or she gets lost.
Happy, and Healthy: Vaccines and More
Before traveling, pets should have a clean bill of health and be up-to-date on any vaccines or medications they may need. Different locations may have different vaccination requirements and may require proof that the pet is up-to-date on its shots. Having a copy of vaccination certificates or a doctor's note showing that the pet is free from disease is a smart idea. It's also good to research local vets in case of emergency.
Keeping these easy steps in mind means that the family pet doesn't have to stay home for long drives or vacations. Stop by one of your local Honda dealerships for more tips and preparation tools for the next big trip.